So, who is Notice Branded Media? For starters, we're an extraordinary team of multidisciplinary experts who've been producing the best-branded media for 22 years now.
Our client portfolio is growing very nicely, with over fifty large retail chains already on board. And that means we're currently managing branded media on their behalf at well over 8,000 locations of their outlets. No mean feat! What's more, we're also quite proud of the fact that we've won several prizes for innovation in our field. And needless to say, you pluck the fruits of these innovative solutions and our holistic approach – digital AV media to help your business grow and succeed!

It's 1999! We predict that new audiovisual media technologies will be reshaping the way businesses and brands reach and retain potential customers and audiences.
What's more, we foresee that design, content, and technology will blend to create extraordinary customer experiences. Enter stage right … Notice!
Armed with these insights, we develop a unique vision for indoor media and the corresponding technology.
From within our Indoor Media Innovation Lab, we help our clients and partners reach their audiences more effectively by …
making brands more distinctive
making products more appealing
making stores more exciting
Fast forward 20 years or so, and dozens of national and international businesses and brands have found their way to Notice Branded Media. We're helping them achieve their goals with the right selection of music and video in the right place at the right time.
TESTIMONIALS
What our partners say about us …
"We've been working with Notice for many years now – such a pleasant experience. Expertise. Flexibility. And they always go the extra mile!"

Sport 2000 - Arthur Gibbon

"Notice's media solutions enhance our customers' shopping experience and support our staff tremendously. And total peace of mind, too – Notice takes care of everything!"

DA Drogist | Sylvia van Oorden

"Hyundai recently digitalized its showrooms to emphasize and enhance the customer experience. Notice Branded Media impressed us immensely with its digital signage solutions and since then they've definitely exceeded our expectations!" Hyundai | Jelle Holdinga

"As a food retailer, we have to move with the times. And our digital menus play a critical role in that respect. What's more, Notice helps us achieve this seamlessly at all our retail outlets"

Bakker Bart | Joris Malipaard
Get in touch
Drop us a line today to find out how we can make a difference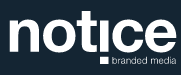 Willem Fenengastraat 21
1096 BL Amsterdam
The Netherlands